Tiny Champions (3 and 4 years old)
Weekly Class Schedule
This program is specially designed for 3 and 4 year olds. It is an awesome way to introduce them to martial arts. Here they are taught basic martial arts in a fun and friendly environment. Students will wear Karate uniforms and earn their white belt. Each class, they will earn a black stripe to signify their efforts. The instructor will work on building confidence in a safe and friendly manner. The kids are taught respect, balance and concentration.
Little Champions (5 to 7 year olds)
Weekly Class Schedule
Our Little Champions classes are a great way for children ages 5-7 to get introduced to Martial Arts. Focus, concentration, listening, respect and courtesy are stressed in order to develop a child's basic learning abilities. The exercise and physical fundamentals are challenging and a great way for kids to gain flexiblity, balance and strength. We understand the importance of fun and variety to maintain high interest and participation.
Martial Arts Classes for Kids 8 and up!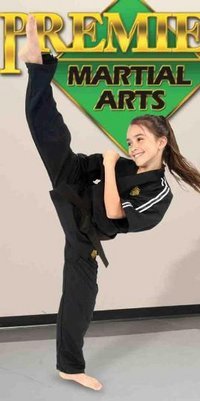 Weekly Class Schedule
This program teaches the students the basic martial arts and self defense techniques including blocks, punches, kicks, and stances. It is a program that allows us to teach the student how to be martial artists, developing them to be a black belt from the inside out. Our Children's Programs are based on the core values of PMA Martial Arts training – "Martial Arts begins and ends with Respect." From this basic premise, we develop your child's awareness and skills in three primary areas – A Respect Attitude, Self Discipline and Self Control. Our core curriculum includes hi-energy drills and skills designed to build and condition each child's attitude, behavior and overall character development. Most important, classes are fun and exciting for every child.
Practical Self-Defense & Safety Awareness…
We also stress non-violent conflict resolution, how to avoid dangerous situations and practical techniques for getting away from a range of situations – being cornered, being grabbed and being tackled to the ground. Our practical self-defense skills include karate, kickboxing and on the ground grappling defense. Your child will be taught that their self defense skills are for self-defense only, and our students have a clear understanding of being responsible for their actions and attitudes.
Leaders are always Victors and never Victims…
Kids who learn to defend themselves usually will never have to. They have learned to walk with confidence and are less apt to be a prime target for bullies and/or abductors. Kids with a high level of self-confidence are also better able to deal with negative peer pressure and "Say No" to dangerous situations and threatening adults.
KRAV MAGA Practical Adult Self Defense
Krav Maga which translates to "contact combat" is a no nonsense, practical approach to self defense. It is the official hand to hand combat system of the Israeli Defense Forces and has been embraced by military and law enforcement throughout the world.
To set up your free evaluation please contact us.
Direct E-Mailor our Contact Form.
The bikini body boot camp in Ancaster, Hamtilon and Dundas Ontario
cardioKICKBOX
Weekly Class Schedule
cardioKICKBOX is the ultimate workout designed for all fitness levels. This high energy program in which you can burn up to 800 calories per class, is a non-contact aerobic workout designed to tone and strengthen your entire body. Since the class has a strength conditioning component, it will help your body produce lean muscles and burn fat faster.
MMA Fitness Get Fit…Without the Hit!
30 minute circuit class, NO Partners and NO contact- train the way the MMA fighters do!
Power Yoga

We have a modern approach to an ancient art. It is a great core strengthening work-out with lots of focus on forms and movement. Very flowing class great total sport conditoning work-out.
Brazilian Jiu JItsu
Brazilian Jiu JItsu is one of many programs offered at Wood's Premier Martial Arts. Call us at 905-777-9663 to get more information about this and other programs we offer.
KRAV MAGA
Krav Maga which translates to "contact combat" is a no nonsense, practical approach to self defense. It is the official hand to hand combat system of the Israeli Defense Forces and has been embraced by military and law enforcement throughout the world.
Krav Maga (pronounced "Krahv Magah" and means "Contact Combat" in Hebrew) is the official self defense and fighting system used by the Israeli Defense Forces (I.D.F.), Israeli Police and Security Services, and numerous U.S. law enforcement agencies. Since1964, Krav Maga has been taught to civilians and law enforcement all over the world as well.This unique training method has been recognized as the most efficient self defense system for real-life situations, emphasizing practical defenses against real attacks. It has been taught to hundreds of U.S. law enforcement agencies and thousands of civilians. Krav Maga is a simple, effective self defense system emphasizing instinctive movements, practical techniques and realistic training scenarios. Plus, because it's based on a person's natural reactions, it is easy to learn. You can become proficient in months rather than years.
Krav Maga incorporates fitness, self defense and fighting like no other system. Krav Maga's top-rated fitness classes compliment training by toning muscles and dramatically improving strength and stamina. Krav Maga's self defense classes are a total-body workout that combines kicking, punching, street fighting, ground fighting, and defenses against weapons, getting students into prime physical shape. The total-body workout benefits of the Krav Maga self defense and fitness system have been featured in publications such as Shape, Men's Fitness, USA Today, US, and SELF, as well as television from CNN and Extra to The Today Show.
Classes available in Ancaster, Ontario Classes available in Dundas, Ontario Classes available in Hamilton, Ontario
"I just wanted to take the time to write you a letter with sincere gratitude and appreciation. Back in February, my son Ryan started your Krav Maga program. I have noticed incredible changes in him since then – and only in positive ways. He is more mature, more confident, generally much happier, and incredibly positive. He speaks so highly of you and "Mr. Wood" and has become a very motivated young man. I have already recommended you and your Martial Arts program to numerous people. Your integrity, kindness, sincerity and support have always been very appreciated. Thank you again for all you have done for my son. I am grateful beyond words."
~Jill Dundas, Ontario~
"If I had to say one thing about Ed and his school it would be go out and try a class. I went in for my first Krav Maga class in September 2010, 60 minutes later I wrote a cheque for a year's membership and haven't looked back.
Ed is extremely skilled and knowledgeable and a very good teacher. He has always been more than willing to answer questions or provide individual help. He and the rest of the PMA team have truly been dedicated to not only my success but the success of every student."
~ Joe W. Virgil, ON ~
"Ed Wood is the owner and head instructor of Wood's Premier Martial Arts. Both he and his staff are extremely professional and are interested in their students attaining their maximum attainable fitness and skill in a safe environment. The facilities are pristine and the equipment is top notch. My visits, especially the sparring, are the highlights of my week"
~ Sean C. Hamilton, ON ~
Bikini Body Boot Camp
Bikini Body Boot Camp works your mid section like no other work-out out there. It focuses on the deep core muscles, which result in a thinner more toned waist line.
The Boot camp works on hips, butt, abs and arms. It will get you into "Knock-out" shape.
"Your program (Bikini Body Boot Camp)is the most effective exercise program I have ever taken part in. With the combination of a healthy diet and a rigorous work out, I saw results in myself that I had never seen before as somebody who has never been in particularly good shape. Not only were the exercise classes effective, they were fun. The instructors seemed to care about everyone's personal development, which was a nice change from gyms I had previously been involved with."
~Erin Duffy Ancaster Ontario~
The next begins soon! Call or email to get started today!
Call today to schedule your fitness evaluation 905-777-9663 or email us at Direct E-Mail or our Contact Form.