Karate for Kids
Wood's Premier Martial Arts is the place for kids to learn in Ancaster, Dundas and Hamilton. Our programs build strong character traits such as focus, respect, self confidence and much more.



Our karate classes are structured, disciplined and high energy, and your child will thrive in the atmosphere. In addition to learning martial arts and self defense, they practice valuable life skills:
How to Focus their energy
Self-Control at home and other settings
A Respectful attitude to family and others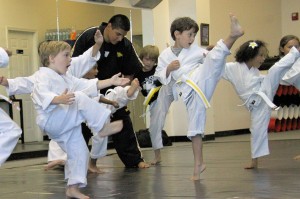 "I have been thoroughly impressed with the kind of training my son Saransh Jain have received from Wood's Martial Arts since he joined there couple of years ago. He is now a very confident individual, physically strong, and have learned to respect others. He is continue to obtain success in his school. In fact, last year he was selected in the gifted program in his school and I would like to give Wood's Martial Art a huge credit for his achievements."
Continue the great training.
~ Nidhi J Dundas, ON ~  
Tiny Champions (3 and 4 year olds)
Click here for Tiny Champs Schedule
This program is specially designed for 3 and 4 year olds. It is an awesome way to introduce them to martial arts. Here they are taught basic martial arts in a fun and friendly environment. Students will wear Karate uniforms and earn their white belt. Each class, they will earn a black stripe to signify their efforts. The instructor will work on building confidence in a safe and friendly manner. The kids are taught respect, balance and concentration. We are currently offering a Free Class trial, please call 905-777-9663 or email to get started
Little Champions (5 to 7 year olds)
Little Champions Program
Little Champions (5-7 years old) Weekly Schedule
Little Champions classes and training also help your child as they enter Grade School, setting them up for success by increasing your child's attention span, thus improving his or her ability to learn. This builds a sense of accomplishment and self-confidence. With each new accomplishment your child's confidence grows – this is the first step in the empowerment of a child's physical and mental abilities.
Our Little Champions classes are a great way for children ages 5-7 to get introduced to Martial Arts. Focus, concentration, listening, respect and courtesy are stressed in order to develop a child's basic learning abilities. The exercise and physical fundamentals are challenging and a great way for kids to gain flexiblity, balance and strength. We understand the importance of fun and variety to maintain high interest and participation.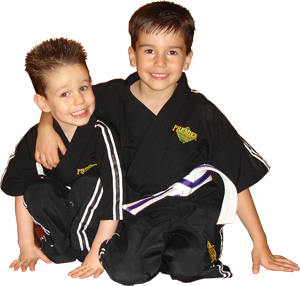 "My son has learned to be confident, kind and compassionate in large part thanks to the lessons taught by the incredible instructors at Premier Martial Arts. It was a proud moment as a parent to see him achieve his Black Belt this past March – what an awe-inspiring accomplishment! I really can't say enough about everyone at PMA – they are like an extended family and they genuinely care about each and every one of their students as they help them reach their goals class by class. Thank you Premier Martial Arts – you're the best!"
~ Sheila Dundas Ontario ~