Fitness Classes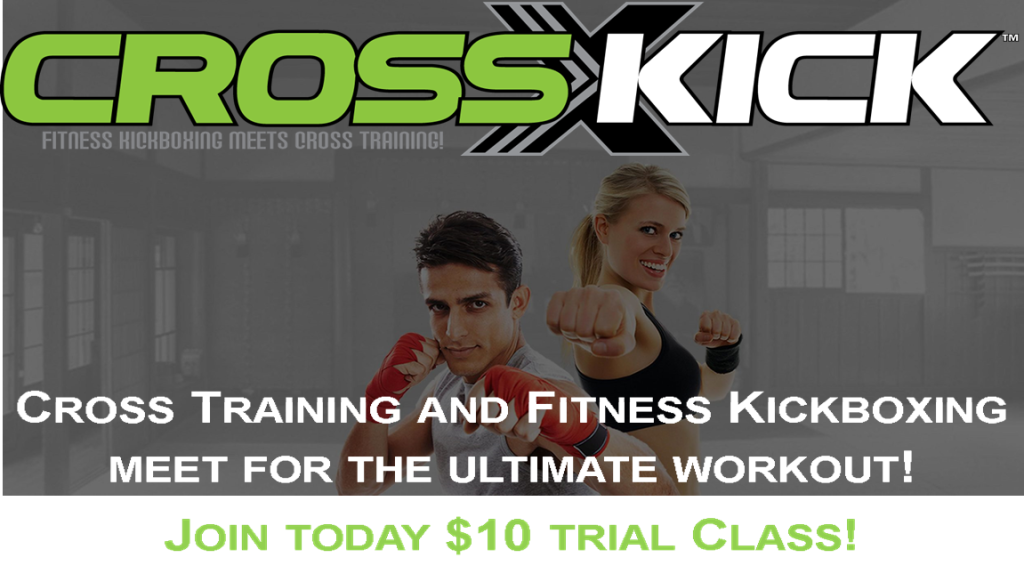 CrossKick in Ancaster is an 800 calorie burning, stress relieving, energizing, waist slimming, thigh tightening, heavy bag pounding, strength developing fun and exciting kick butt workout!
Many People have lost up to 8lbs in the first two weeks of training with CrossKick!
Instructors at CrossKick Ancaster are experts, they will guide you every punch, kick, knee, lunge, and squat of the way!

CrossKick Promotes Weight Loss, Develops a TONED BODY, Increases Cardiovascular Conditioning, Increases Muscular Development, Increase Flexibility and Teaches you a skill you can use to Defend yourself, all while Taking an Amazing Fitness Class!
CrossKick Classes Are Fun and Get real Results
You will enjoy your CrossKick training while also developping a skill that will always be with you for self defense
Men and women train together in this high energy, exciting CrossKick workout in Ancaster
Fun, Results, Get Fit, and Meet New People
New CrossKick Classes in Ancaster, Dundas and Hamilton are Forming NOW

Check out a brief video of a class below
Fitness Magazines rate CrossKick as the number one fat burner, with up to 1,200 calories burned during a one hour class! CrossKick classes are great for both females and males that have the goal for a healthy fit lifestyle, and they have a blast training together in this fun high energy class.

IF YOU WANT A FIT AND FUNCTIONAL BODY, 
                                                              WANT TO BE IN THE BEST SHAPE, &
                                                                 HAVE FUN IN THE PROCESS,
                                                                   THEN…

           IS FOR YOU!
            CLICK BELOW FOR MORE INFORMATION & OUR ONLINE SPECIAL!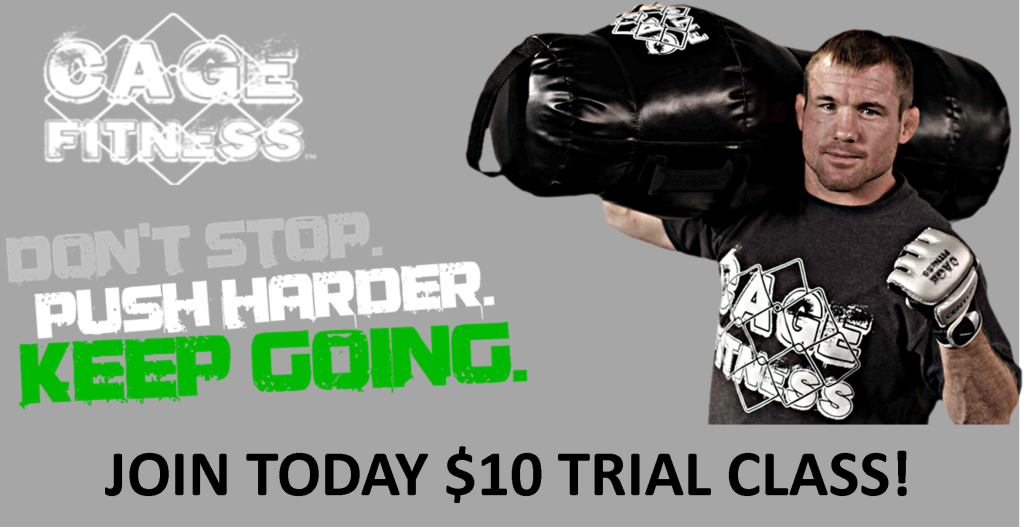 What is 
Cage Fitness

?

It is a complete workout program that is designed to cater to people at all levels of fitness. Cage Fitness™ is based on the structure of a championship MMA bout. What this means is that Cage Fitness™ will give you a total body workout in just 5 – 5 minute rounds.There are four key elements that are focused on: endurance, strength, power and core. This is accomplished through our 5 round fitness system which is broken up into the following categories: Warm Up, Upper Body, Lower Body, Combo Round and Cool Down/Core.

The best part about Cage Fitness™ is that an individual can customize their workout by adjusting their intensity level to best suit their personal fitness goals. Each 5 minute round incorporates both aerobic and anaerobic exercises that will help maximize burning fat while also gaining muscle. This system of training allows the participant to burn more calories while increasing ones metabolism.

Is there any contact in cage fitness?
There is no contact in Cage Fitness™ or working with any partners. Cage Fitness™ is a fitness program designed for individuals to work at their own pace. The exercises are safe for women and men.
Is Cage Fitness™ Martial Arts?
Cage Fitness™ is based on the training methods used by Mixed Martial Arts (MMA) athletes. MMA participants are considered by most to be accomplished athletes who have obtained the highest levels of fitness. We have modified some of their training techniques to create this fitness program. Cage Fitness™ will get people into the best shape without having to train in MMA.
I have never worked out before….is Cage Fitness™ for me?
Yes. Unlike an aerobic class or other fitness classes where an instructor is leading a group of people through various exercises at a certain pace, Cage Fitness™ allows everyone to go at their own pace. Cage Fitness™ is broken up into 5 – 5 minute rounds that are made up of timed segments within those rounds. An individual can compete with themselves to see how many repetitions of each exercise he/she can do within those segments.
What should I wear to class?
Participants should wear comfortable and loose fitting work out clothes and sneakers/tennis shoes. When signing up one should also purchase bag gloves for hitting the grappling dummy.
How long are the classes?
Cage Fitness™ is designed to get maximum results in a short amount of time. The class is 30 minutes which consists of 5 – 5 minute rounds with a minute rest in between. This is the same format used in a championship MMA match.
CAGE FITNESS
IS FOR YOU!
CLICK BELOW FOR MORE INFORMATION & OUR ONLINE SPECIAL!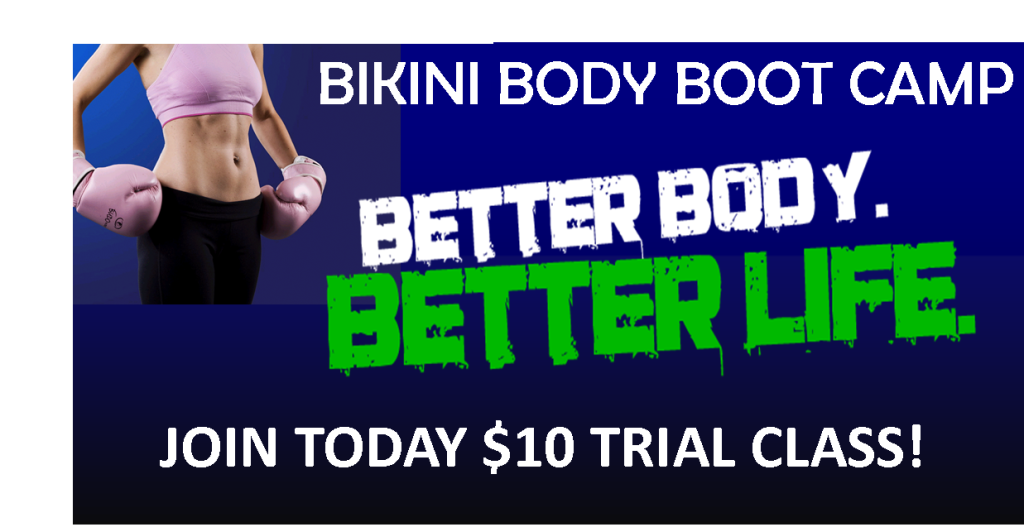 Bikini Body Boot Camp is where Women in
Ancaster, Dundas and Hamilton are getting their Cardio Fitness Kicks! No More Boring Gyms!
What members say about the Bikini Boot Camp Program….
"Your program (Bikini Body Boot Camp)is the most effective exercise program I have ever taken part in. With the combination of a healthy diet and a rigorous work out, I saw results in myself that I had never seen before as somebody who has never been in particularly good shape. Not only were the exercise classes effective, they were fun. The instructors seemed to care about everyone's personal development, which was a nice change from gyms I had previously been involved with."
~Erin Duffy Ancaster Ontario~
What to expect…
Bikini Body Boot Camp works your mid section like no other work-out out there. It focuses on the deep core muscles, which result in a thinner more toned waist line.
The Boot camp works on hips, butt, abs and arms. It will get you into "Knock-out" shape.
Program is designed by Women for Women!
How Does the Program Work…
BIKINI BODY BOOT CAMP is a 10 week program designed to get you in the best shape of your life, lose weight and tone your body. If you can't seem to lose weight and you have tried almost every fad diet on the market then you need the BIKINI BOOT CAMP. Some people resort to hiring a personal trainer and still can't get the desired results. BIKINI BODY BOOT CAMP can help you get the results you desire at a fraction of the cost of a personal trainer.
Ten Weeks – Five Tiers – A New Beginning:
The BOOT CAMP program is a 10 week, Five Tier program. It focuses on Nutrition, Cardio Exercise, Resistance Training, Motivation and finally Behavior Modification: A complete recipe for success.
Transform Inside and Out…
To make changes in your current eating regime and exercise it will require changes in your habits. You obviously will have to lose some bad habits and have the self discipline to make some new ones. This is not an easy task and obviously that is why many people lose weight just to put it right back on. Your reality is based on what your perceptions are and those perceptions are based on your knowledge.
New ideas for a new beginning …
If you can remove old knowledge in your database (brain) and replace it with new ideas then your perception can change which will be your new reality. We want that reality to give us a positive self image of who we are and what we can become. We incorporated 10 easy ideas which can help you week by week to transform you and help you release your unlimited potential.
One week at a time …
Each week of the course focus on that transformation tip and incorporate into your life. Your instructors will coach you and help motivate you to success. At the end of the 10 weeks you will see how these steps all have effect on each other.
To register… Make this the work-out that will get the long lasting results you are looking for!
Bikini Boot Camp 
IS FOR YOU!
CLICK BELOW FOR MORE INFORMATION & OUR ONLINE SPECIAL!

Direct E-Mail or our Contact Form.