Wood's Premier Martial Arts
Thank you Dundas, Ancaster and Hamilton for voting us Best Martial Arts and Best Boot Camp for 2015!
Wood's Premier Martial Arts has been offering Martial Arts instruction and training since 1987. We proudly service the Ancaster, Dundas and West Hamilton communities. Premier Martial Arts has produced champions in life as well as in the Martial arts.
We specialize in
martial arts classes for kids in Dundas, Ancaster and Hamilton.
  Our children's karate program teaches kids practical self defense, in a positive and safe environment.  Our instructors are dynamic and motivated.  In our kids classes starting at 3 years old, each student is taught true qualities of  black belt.  Your child will learn how to be self confident, focused, how to persevere and try their best! 
Try our introductory offer today!
Wood's Premier Martial Arts is the only official
Krav Maga
facility in
Ancaster, Dundas and Hamilton
.  We were the first facility in Ontario to bring Krav Maga to the area over thirteen years ago.  Krav Maga is a very practical self defense system.  We have a new Krav Maga  school opening on May 2nd 2015 in
Mississauga. 
We also have an affiliate school located in
Toronto
.   
Get started today for $29.95!
We offer the area's best and most diverse fitness classes.  Our classes are top notch for beginner, intermediate and advanced students.  We offer cardio kickbox, power yoga, bikini boot camp, cross kick and cage fitness classes.  Our cardio kickbox program burns over 800 calories per hour!  Kickboxing for Fitness in Ancaster, Dundas and Hamilton is the revolutionary fitness program that combines real kickboxing moves with cross training exercises for a full body workout. Ancaster CrossKick' unique cardio workout sculpts the muscles of the arms, legs, butt, and abs! 
Get started for $10 trial class!

Martial Arts Classes for Kids
SELF DISCIPLINE
Getting a child to do what they are told can be challenging enough, and our program will develop respectful disciplined kids, but more important is getting a child to do what they are not told. Develop self discipline is children where they have the knowledge to know what they should do, and they do it! This trait will be invaluable as they grow into successful teens and adults.
CONFIDENCE / GROWTH
A confidence child is a happy child. They no longer live in anxiety or fear. Confidence is the first step to get a child to succeed at all areas of life. Once confidence is developed, the instructors at our studio can now begin getting a child to perform at a level that was once un-thought of for them.
INCREASED CONCENTRATION & FOCUS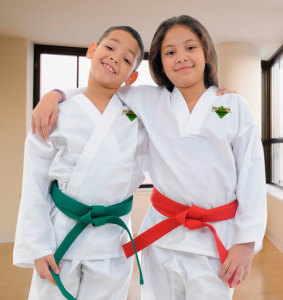 Children will begin by keeping their eyes focus on the eyes of people speaking to them. They will begin paying more attention to their teachers and for longer periods of time, therefore hearing and learning more. Focus is like a muscle, the more you use it, the better and stronger it gets. With martial arts training at Premier Martial Arts we train children muscles and mind.

Israeli Krav Maga Real World Self Protection
Krav Maga is a generic Hebrew word meaning "contact fighting." The word maga means "contact" and the word krav means "battle" or "fight". In Krav Maga, there are no rules. Krav Maga is a self-defense and fighting system, not a sport. All the techniques focus on strategies and effectiveness in real-life conditions and situations. The attacks and defenses in Krav Maga training are designed generally for close quarter, possibly life threatening situations. The goal of training is to neutralize attacks, counter attack for self protection purposes and to escape rapidly and as safely as possible. Though self protection is the main goal of Krav Maga, the techniques, conditioning and drills make Krav Maga the ideal training for self-defense, fighting, or fitness.

HUNDREDS OF PREMIER MARTIAL ARTS STUDIOS
Premier Martial Arts has 100's of location in three different countries and we're proud to offer the benefit of Anywhere Martial Arty Access. With this benefit, you can visit any of our PMA studio's or affiliated schools centers for the price of a standard monthly gym membership. With Anywhere Martial Arts Access, you can train whenever—and wherever—we have a location.